Pride and Prejudice: Book + Movie Review
So… Pride and Prejudice, by Jane Austen. If you haven't heard of this book yet, what have you been doing with your life? (jkjk)
I really don't think I have much to say that's different from everyone else, since this is literally a classic that has been out in the world for more than 200 years, but I just wanted to give my two cents. Some spoilers ahead, so don't keep reading if you're living under a rock and don't know the plot yet.
PRIDE AND PREJUDICE (Book) – ★★★★
Goodreads Synopsis:
Since its immediate success in 1813, Pride and Prejudice has remained one of the most popular novels in the English language. Jane Austen called this brilliant work "her own darling child" and its vivacious heroine, Elizabeth Bennet, "as delightful a creature as ever appeared in print." The romantic clash between the opinionated Elizabeth and her proud beau, Mr. Darcy, is a splendid performance of civilized sparring. And Jane Austen's radiant wit sparkles as her characters dance a delicate quadrille of flirtation and intrigue, making this book the most superb comedy of manners of Regency England.
I listened to the audiobook on Librivox (I strongly recommend the version that's narrated by Elizabeth Klett! Her voice was really soothing to listen to!) and I don't think I would have gotten through it otherwise. I loved the beginning and the end, but the middle was so boring. After the Bingleys leave for the winter, literally nothing happens until Mr. Darcy proposes, ten chapters later. Also, I think I fell asleep sometime in chapter 23, so I had no idea who and where the characters were for a good chunk of the middle.
Upon a reread of the physical book, everything started to make more sense. I enjoyed the book much more than I anticipated, and I really loved the characters! I still have a strong dislike towards Lydia, Wickham and Mr. Collins, and I just barely tolerate Mrs. Bennet, but I adore everyone else! Especially Mary… Mary is a whole mood.
I think the book was much less focused on the romance than the movie, and more focused on the class differences. I watched an analysis video about how even though most of the characters are upper class landed gentry, there is still quite a clear divide between a richer landed gentry like Mr. Darcy, and a poorer one like Mr. Bennet. So therefore, it really is a book all about the prejudices of high society, as Austen doesn't even delve into all the lower classes and the prejudice they'd receive.
PRIDE AND PREJUDICE (2005 movie) – ★★★★★
IMDB Synopsis:
Sparks fly when spirited Elizabeth Bennet meets single, rich, and proud Mr. Darcy. But Mr. Darcy reluctantly finds himself falling in love with a woman beneath his class. Can each overcome their own pride and prejudice?
I've watched this movie four times in a row now, so I think that speaks volumes as to how much I adore it. The cinematography was beautiful, and all the music was very fitting. Kiera Knightley was such a good Elizabeth, with her sharp wit and elegance, and Matthew Macfadyen was the perfect Mr Darcy. He really captured all the awkwardness, which made me laugh. The movie people made the middle part more concise, but they also skipped some necessary scenes like Lydia's elopement, which was a pity because it could have been so dramatic. As well, most of the minor characters were cut from the film, which makes Charlotte Lucas's character very flat (as her parents and familial situation aren't introduced at all). But despite all this, I do believe that the 2005 movie summed up the story quite well, and made it more appealing to a modern audience.
I have so many favorite scenes, so here's a barrage of gifs with my commentary! I hope you enjoy the madness ahaha!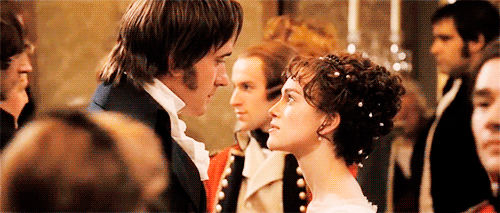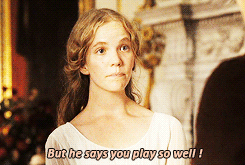 CONCLUSION:
I adore Pride and Prejudice, and I can't wait to reread it again (and probably keep rewatching the movie)! After all, it is a classic for a reason. And a cinematic masterpiece too 😉